A Request To Exit (REX) option in door locks is an accessory to your access control system. The switch notifies an external device that someone is trying to exit, which trips a relay that changes door state from lock to unlock. Request To Exit switches come in many forms – from pushbuttons which have engraved 'Push to Exit', to switches concealed inside exit devices, to hands-free infrared and touch sensitive devices.
Request To Exit option is installed when you want to give free exit option on the door. This option can also be used when a user is not able to use a door's handle to open the door.
Pushbutton Request to Exit Switches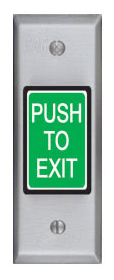 The Pushbuttons are spring loaded buttons which are often mounted on a stainless steel plate. The button comes in different styles. It can be a simple or large button, green, or button that illuminate LED lights. The Pusbutton REX switch is connected to the access control application, which controls the locking mechanism of the door using wires. When you need to pass through the door, simply push or press the button to open the door. Upon pushing, the action releases the fail secure, or fail safe lock of the door, the door releases and allows free exit.
Infrared Motion Sensor Request To Exit Devices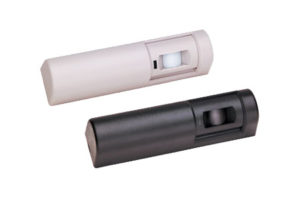 The REX switches can also come in the form of infrared motion detectors. Due to their motion sensor they can detect  motion and thus unlock the door and allow you to exit by just walking up to the door. These motion detectors may be mounted to the door frame header, wall or ceiling. They generally have an adjustable time delay ranging from seconds to minutes. The coverage area is dependent upon the placement (the height and the angle) of the sensor.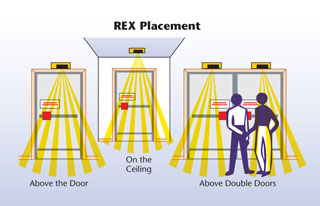 We are All State Security Company – one of the leading locksmith serving Connecticut and surrounding areas of Massachusetts, New York and Rhode Island. We have been in business for almost three decades now. Our e-commerce store Locksandsafes.com sells all types of locks, exit devices, electric strikes and access control hardware.